It's been so long since I did an inspiration for shopping entry (almost a year if I'm not mistaken) and I realized it this morning as I was lying in bed with a tad bit of insomnia. I'm doubly inspired because I've been on the prowl for complementary clothing choices to the Catimini sweaters I bought for my girls (I had no idea that some of the Catimini line goes to size 12 and with a 8 year old who is in size 10 already it's a relief that I can still find age appropriate clothing by this fantastic Euro line! I know Beth will be very happy with me! 🙂 )
So on with the shopping!
What is "in" with this photographer (and most photographers everywhere if you happen to stumble upon this blog and are in need of inspiration)? Lots of texture, colors! lots of vibrant and/or dark colors, mixes of patterns. The Euro lines…you can't go wrong with them. Brands like Clayeux, Catimini, Deux Par Deux, Oilily, and others I can't even begin to list define style with texture, color, mix of patterns and always unique and a totally non cookie cutter-ish sensibility. A lot of these brands take the guesswork out of mixing patterns so that you can totally coordinate an outfit for a child/children and play off what they're wearing in your own clothing choices (for adults who happen to be in pictures with their children). The more American 'mall' lines: GapKids, Abercrombie for Kids, Crewcuts (J. Crew for Kids), 77Kids (American Eagle for Kids), Red21Boys seem to feel more collegiate, more of what you could call definite American flavor, almost rugged. Depending on the flavor and style you are emulating you can totally layer these clothes to come up with a unique look for a coordinated but not overly matching style.
I'm currently on the prowl for something to go with a couple of beautiful Catimini sweaters I bought for my girls several weeks ago at Lil Surprises in Historic Frankfort. These pieces coordinate with them but unfortunately I'm not coming across the sizes I need for my own kids. I'll use these pieces as my illustration for the fake family session I am now coordinating for a photo shoot with me. 🙂 Use your imagination folks! 😉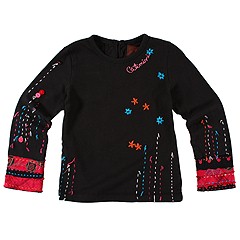 It feels like gypsy inspiration to me. The above outfit this would go very nicely with black tights and a pair of tall black boots and a cute beret or mary jane buckled shoes coupled with with a set of tights that are made to coordinate (but not matchy match!) with it.
For younger toddlers I love this Catimini dress, I can only imagine how cute it would be on (and it totally reminds me of Bananas who wore something similar a few years ago):
This dress would be sharp with coordinating tights made by Catimini! Now imagine the siblings who would wear these two outfits. They would coordinate wonderfully without matchy matching or claashing for that matter… I encourage my clients to think of dressing up for their session as they would go about decorating a room of their home, coordinating with colors and patterns.
Let's say we had a big brother involved…how would we dress him to keep the style flowing here? You could pair a plain red, grey, khaki-tan, blue, etc. sweater &/or shirt and it would pair nicely to coordinate. I love these selections from 77kids in the boys section of the website:
With a CrewCuts Long Sleeved Jersey T underneath.
Do you see the way you can mix patterns and get away with it as long as the colors coordinate? Also, yes I'm mixing patterns with patterns…the method to my madness is this: many of the Euro lines, specifically in this post the Catimini line, already coordinate and mix colors and patterns for you. What this means is the elimination of guesswork about what color goes with what. The first outfit is rife with color and contrast…by investing in an outfit like the one illustrated you make clothing choices based upon the many colors available in that outfit for the rest of the family. Keep in mind that none of these patterns overpower another. For the adults: throw on a tie loosely knotted with a pattern for dad and maybe a cardigan sweater and for mom a really nice thick knit sweater with denim or chinos on the bottom and you have fantastic fall fashions for a Holiday photo shoot set in outdoor settings. The outfit selection is half the battle and once you got that nailed down, I assure you the rest of it is good fun with Marmalade! And lots of gorgeous gorgeous images to prove it. 🙂
Just a couple clothing lines I am a fan of. There are hundreds of others but this'll get you going for inspiration:

Thanks for stopping in, I hope you enjoyed a peek into my insomniac brain. 🙂