Happy Belated Birthday to my Maddie and a belated bday to Maddycake, a client of mine who celebrated her first birthday on Sunday as well. Life moves on too quickly. I bet Maddycakes' p's are feeling much the same way about their past year with their little cutie as I am about the past EIGHT years with my little cutie.
Well…like the big dork that I am I took my daughter's brand new Daisy Pocket Scooter (bday gift) out for a spin this morning. It was for research, you know… 🙂
(anyone who knows me or has had a session with me knows the real secret that I'm just a kid at heart so this revelation about riding the 8 year old's newest & bestest shouldn't be surprising)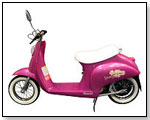 Well the entire point of getting her this scooter was for her 8th birthday (which we celebrated on Friday night with a slumber party. Yeah. Um…remind me that it took 2 days to recover from the slumber party hangover next time I get the bright idea to host one, k?). We bought the scooter at Toys R Us around Christmas time and it sat in the basement of the studio waiting for its' unveil. Maddie had an inkling that we were getting it for her but we threw her off track, pretty successfully if I do say so myself, and thought she was getting something else entirely.
So back to train of thought rambles…
Riding around on the 16 mph (yes I am a bit worried about my crazy chick cracking her head open on the pavement so before she even sets her little tush on the seat she will be donning a helmet), the wind blowing through my hair I had this awesome visual about driving along on a little Vespa on the streets of Rome. Ahhh, the beauty of daydreaming. Nevermind the 30 degree chill exacerbated further by the wind rushing as I drove on the sidewalks of my newish subdivision in the exurbs of Chicago….I was momentarily transformed into a younger version of me. A younger version, more exuberant and liberated of all adult commitments. Daydreaming…
It was then (with the wind chilling me to the bone) I realized then that the gift we are giving my daughter is not just transport down the street or to the park but the gift of freedom. Thinking about the small gift of freedom that this little pink machine allows her brings tears to my eye. My baby, whom I brought home 8 years and 1 day ago (and had a loss on what to do NOW…LOL) is growing up. Despite my inner longing to hold onto the little girl who loved princesses and My Little Pony® 😉 it is all changing. Life is dynamic, ever changing. Just as soon as you get used to the NOW the now changes and becomes something else.
To my little 8 year old…please, don't forget to hold onto your childhood a bit as your rush onward through life. Remember the days you were able to ride your scooter to your friends' homes and remember the freedom and fun of being eight.
xoxo, Mare
p.s. BLD peeps: your orders have come in and are going out today. Be on the look out!
p.s.p. ALMOST forgot to mention that I am forgoing the March planned Limited Edition Mini Sessions plan because I have recently partnered up with a boutique in downtown Naperville (Unique Bowtique) for a Marmalade Limited Edition Sessions event on Saturday April 12th (definitely the 12th, not the 5th as I had originally highlighted, typo…bad bad Mare). Details to follow. In the meantime feel free to stop in at Unique Bowtique starting later this week. I will have a few images up on display for anyone interested in going and checking out my work in person!
For kicks since you finally made it to the end of my rambles….